The Del Webb Sun Cities Museum opened in 1990 as the Sun Cities Area Historical Society and in 2010 was renamed after the man responsible for the first active retirement community in the nation: Del Webb. He was a legendary builder who spanned 50 years of construction across the country. In 1960, along with his partner Jim Boswell, he started a venture the experts predicted would fail. Thankfully his amazing employees refused to let that happen. The roller coaster of highs and lows were staggering, but those moving to the tiny community in the West Valley of Phoenix were all in.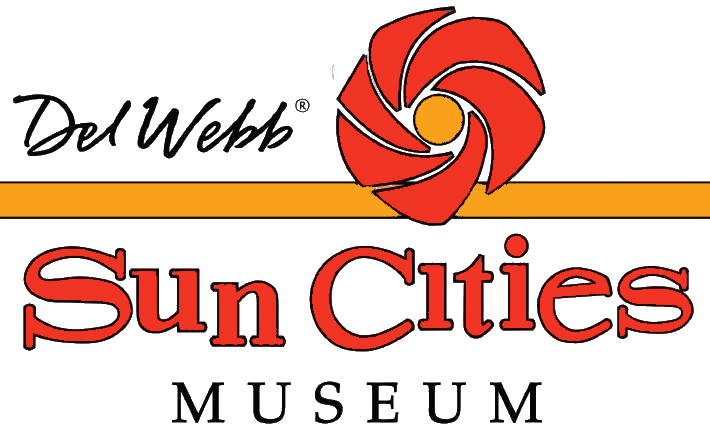 Over the next 18 years, 27,000 homes were built and sold and the Del E Webb Development Corporation (DEVCO) immediately started their second community, Sun City West. The original plan was for it to be 40,000 homes but inflation crushed those lofty goals and resulted in being downsized to 18,000 units. The value and the values built into the two communities were unique and from those humble beginnings, they have been analyzed and studied by every developer trying to replicate their success.
The founders of the Museum understood how important a role Sun City and Sun City West played in the evolution of retirement in the United States. Webb's vision literally changed the lives of millions of retirees and created a niche market that is alive and growing to this day. The Museum and this website is dedicated to telling that story. From the personal interviews, to the amazing photograph collection, to the endless displays of anecdotal trivia we cover the exact reasons these two senior communities flourished and grew to be the successes they are today.
The Del Webb Sun Cities Museum epitomizes the Sun City story. Since our opening, we have had three part time employees, everything after them has been accomplished and everything we have done has been by volunteers. When you step inside the front doors, you feel as if you have journeyed back in time to opening day, January 1, 1960. Vintage pieces will trigger an emotional attachment from the nostalgia of days gone by.. We have been told repeatedly how visitors anticipated spending 20 minutes to a half hour in the little pink house; and 2 hours later, told us they would be back. They simply couldn't take it all in.
Sun City is often referred to as the "City Of Volunteers" for a reason. Without the enormous commitment of time, expertise and generous donations, neither the Museum, nor Sun City would have been as successful as we are. From the very beginning, those moving here called it a "labor of love," it still is as we do what we do because we want you to feel a part of something very special. We believe that Sun City and Sun City West are two of your best options on where to retire. This site and the Museum will help you understand why.
Thanks for visiting this site and we hope you are able to stop by and see us in person. You won't be disappointed.